Ali In Da Club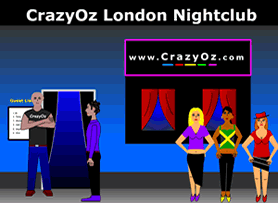 I based the character Ali on a friend of mine who goes to nightclubs all the time. Like most people who go to clubs regularly, he tells a lot of lies to both girls and his friends.
I've seen my friend get rejected by girls he clearly really likes and then make excuses how he didn't like them at all. I've tried to emulate some of his funny excuses and lies in this game.
If you like the game, you can share it with others using the share buttons above. The game might not run smoothly if you have an old computer. Any newish computer should run the game smoothly though.
I hope you enjoy playing this game as much as I enjoyed making it.
Oz