Banner Advertising on CrazyOz
Banner Ads
Bring more new customers to your business by advertising on CrazyOz with a banner ad. Standard banner ads are shared with two other advertisers and are displayed randomly. The prices shown below are for banner ads for the duration of 3 months in one city/location, for example "London" or "Essex".
Banner ad prices (non personals)
Banner ad in 1 category - £49
Banner ad in 3 categories - £99
Personals category banner ad prices
Banner ad in 1 category - £99
Banner ad in 3 categories - £249
Banner ad in 5 categories & 5 premium ads - £399
Exclusive Banner Ads
We also offer exclusive banner ads for people who do not want to share banner ad space with another advertiser. Exclusive banner ads are double the price of the standard banner ad prices.
Discount on banner ad prices
A discount may be offered to some customers with custom orders. Contact us for more information.
Banner ad sizes
Your banner ad needs to have a maximum size of 300 x 50 px.
Do you want a banner ad made for you?
If you do not have banner ads in the correct sizes, we can make a new banner ad for you for £25. You will need to supply photos (you must own the copy right of the photos) and text to be used for your banner ad.
Below is a picture of a banner ad in the friends category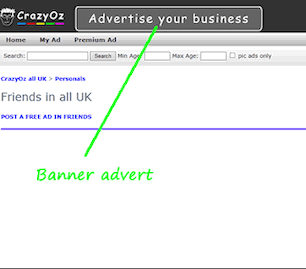 Sponsored Escort Link Pricing
You can have a "no follow" link in the Escort Services category. These links are shown for all cities on the list.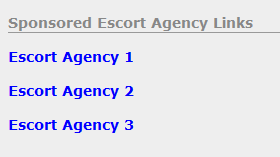 How to order a banner ad or sponsored link
Please use the contact page to contact Oz with the details below:
1. Which category do you want to advertise in?
2. What do you want to advertise?
3. Do you want an exclusive banner ad or a shared banner ad?